If you're looking for designer dog clothes, you've come to the right place!
In this Digdoggy.com Guide, you'll learn: 
The top designer clothing brands to choose from 
Our recommended pet boutiques 
Where to buy replica clothes
And much more! 
Below is a quick list of all our top products. Keep scrolling to learn more about how to choose the best designer dog clothing. 
Image
Product

Classy

Global Shipping

Premium

Classy

Global Shipping

Premium

Shop Here

Moncler Genius Poldo Dog Couture

Premium

Accurate sizing

Authentic

Premium

Accurate sizing

Authentic

Shop Here

Value For Money

Variety of items

Great Pricing

Value For Money

Variety of items

Great Pricing

Shop Here

Fashion & clothing

Catwalk Clothing

Free Delivery

Fashion & clothing

Catwalk Clothing

Free Delivery

Shop Here

Top quality

Personalized

Authentic

Top quality

Personalized

Authentic

Shop Here
Our Overall #1 Rated Pick
Updated On Septemeber 16, 2021
Our top choice is Ralph Lauren Cable Cashmere Dog Sweater.
Sizes cater to teacup breeds ranging up to 24lb french bulldogs. 
On the rear is a discreet hole for a leash with rib knitted edges to avoid ensure items last long. Made with cashmere in deep green, this sweater makes a great designer outfit for any season. 
Top 5 Best Designer Clothes  For Dogs
In a hurry? Check out our top 5 designer clothes for dogs! Keep reading to discover more about our top picks.
Top Designer Brands To Shop Dog Clothes
Louisdog
Susan Lanci Designs
Oscar Newman
Lucy's Luxuries
Ruff Ruff Couture
Rororiri
Paris Erotica
Wooflink
Jax & Bones
Paul Frank
Dogs of Glamour
Ralph Lauren Pets
H&M
Moschino
Urban Outfitters
Barbour
Temellini
Heron Preston
Adidas
Luxury Pet Boutique
Luxury Pet Spa Boutique
Canine Styles Uptown
Zoomies
Posh Puppy Boutique
Fifi & Romeo
Tails In The City
Furbabeez Pet Boutique
Pawsdeluxe
Top Dogs Pet Boutique
The DOG Store
Emi Pet Salon & Boutique
The Urban Pet
Designer Dog Garment Wholesalers
When it comes to the best designer dog clothing, the top wholesalers for dog clothes include:
Petsoo
Dogdug
Doggie Design
eBay
Hoopet
Alibaba
Read Also: >> What clothes will keep your dog warm in winter? 
What Should you Avoid When Buying Designer Dog Clothing?
Here is what to avoid when buying designer dog garments:
No heavy Clothing In Cold Weather
One sweater should be enough. If the weather is extreme, a heavy knit should do. Don't pile on layers of clothing on your dog. These may look cute but maybe too stifling and suffocating, not to mention heavy to bring around. 
Clothes should have enough space for 2 fingers 
An exact fit will hamper circulation and can cause your dog to lack much-needed oxygen. When clothing is on, you should be able to slide 2 fingers underneath between your dog's coat and the clothing. 
If you can't, then it's too tight and needs re-measuring. 
Our Reviews Of The Top Paint Brushes For Oil-Based Paints
Pick #1: Ralph Lauren Dog Clothing
This vibrant cashmere turtleneck green sweater makes the perfect choice for small to medium-sized dogs. 
Designer Ralph Lauren for dogs comes in custom-made dog hoodies, pet apparel, and even monogrammed dog clothing.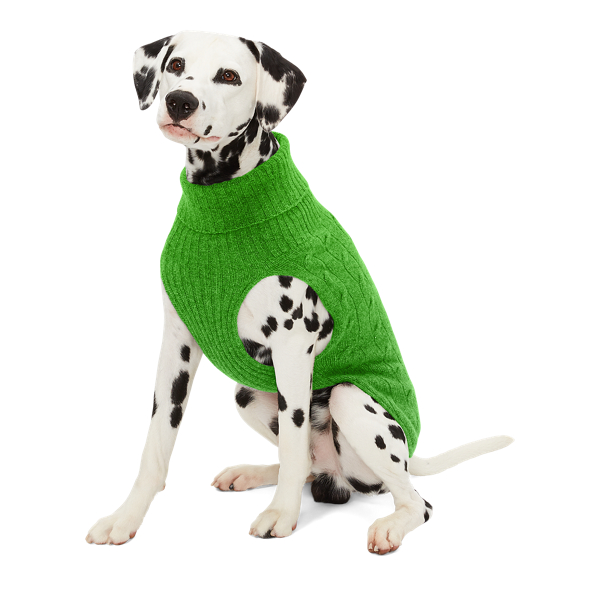 All edges have been rib-knitted to avoid fraying of the material with a plush fold over turtle neck top end. 
A warm but somewhat cool option that looks great and fits perfectly. 
Pick #2: Moncler Dog Jacket

Moncler Poldo Dog Couture
A luxury collection for larger four-legged friends, Moncler is a line made with Milan-based Poldo Dog Couture. 
This team specializes in refined dog clothing and has been in the biz since 2016.
Absolute comfort and top-quality materials have been used to create outfit after outfit for the larger dogs in your life.
The brand itself was created in Monestier de Clermont in 1952. This is a small village in Grenoble mountains that focuses on mountain sports clothing.
When Remo Ruffini invested in the Group in 2003, brand re-positioning happened and every product by Moncler took on a more exclusive, distinctive style.
Pick #3: Furbaby Couture Furendi Jacket
Perfect for the cooler seasons, this designer dog sweater inspired by Fendi is made of one hundred percent cotton.
Available for medium or smaller dogs in five sizes, these also come in XXL which would fit a fully-grown Cavalier King Charles. 
These not only keep your dog warm but keep them looking cool as well, season after season.
Easily washable, your dogs will love the warm, soft comfort of their Furendi sweaters.
Pick #4: Roxy & Lulu Clothing
Roxy & Lulu creates crystal-studded, brocade golden Victorian wedding dresses that could upstage any brides with price tags. 
Starting from a thousand dollars upwards, you can be sure that your pooch will be the most beautiful bride you could hope to imagine on her wedding day. 
A Canadian Lifestyle Luxury brand of Vogue Pet Fashion, Roxy & Lulu design pet accessories and pet fashion for dogs of all sizes, shapes, and walks of life.
Known for innovative use of trims, fabrics, and creative designs, every piece is hand-made in-house in Montreal.
There is a lot of attention to detail and workmanship that ensures every garment will be available in high quality to support the local industry.
Pick #5: Versace Dressing Gown
This Versace dressing gown by far has the most premium look on the list. 
Outside is a 90s Vintage Logo with a back and gold print that looks and feels quality. 
All fabric is made of 100% cotton and can be washed at 30° then tumble dried..
If you choose to go all out, there is an option for a matching dressing gown for you too! 
Our Top Choice: Ralph Lauren Cable Cashmere Dog Sweater
Our top choice has to be the Ralph Lauren green sweater.
Not only does it look and feel good, but down to the small details like the rib-knitted hem and turtleneck have been focused on. 
Simply slip the sweater over your dog's head and straighten it out then you're done! 
Currently, the best price is listed on the official website here.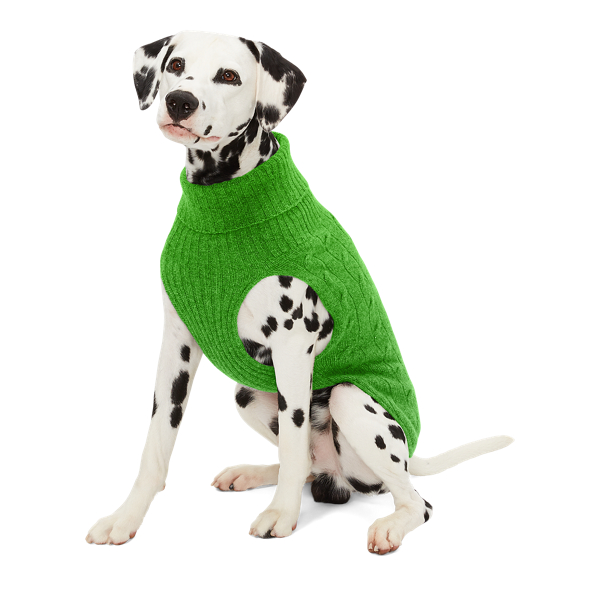 Conclusion
Get your dog looking fun and sassy this year! Keep a good fit on all items with at least 2 fingers space or even oversized. 
Be sure to avoid layering too many clothes during cold weather and be open to testing out replicas for casual wear!